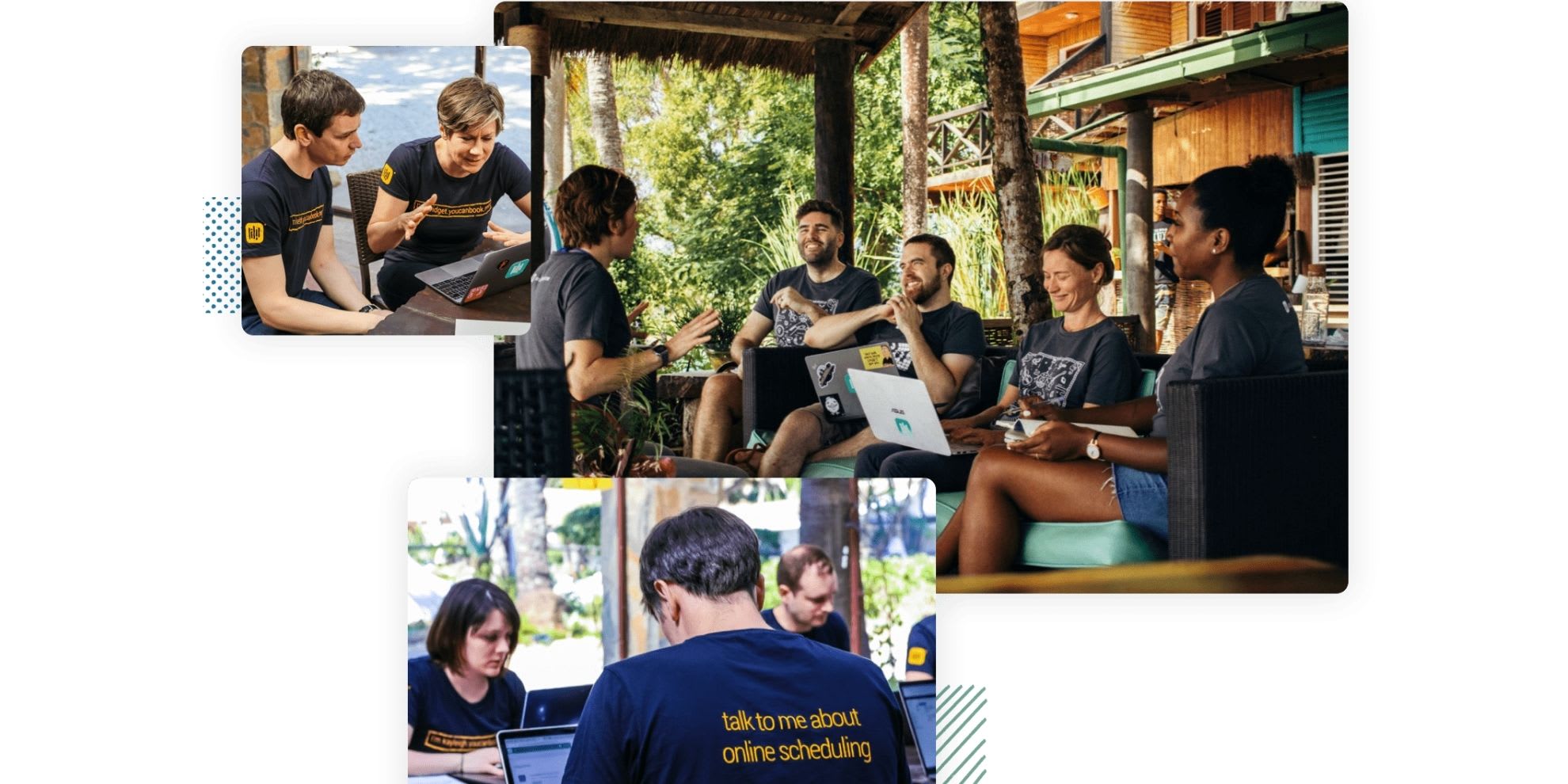 In business

12 years

Funding model

Bootstrapped

Team size

25
youcanbook.me

Simple online scheduling for your team eliminates back and forth emails. Customer bookings straight into your calendar.
---
youcanbook.me profile
We've been solving scheduling problems since 2008, with our first app, WhenIsGood. YouCanBook.me launched in 2011 and is self-funded, profitable, and privately owned.

We pride ourselves on being product-led and customer focussed. Our product is optimized for teams
How do you maintain flexibility & balance for your team?
We live a happy, family friendly and flexible 40 hour a week life. Everyone works remotely - we support both co-working and home-office workspaces. In every relationship with staff we aim to build well being, comprehensive insurance coverage, long term employer contributions and job security in their life. We enjoy and celebrate family milestones.
Remote First
Parental Leave
Company Retreats
Office Allowance
Unlimited Vacation
Mandatory Minimum Vacation
How do you ensure autonomy and plan for the future?
We limit private channels in Slack - meetings are recorded and shared, most decisions and planning processes are documented and published in our internal document management system. 
Deep Work
Long-Term Planning
How does your company try to hire people from underrepresented groups and improve the diversity of your team?
We take active steps in our hiring to anonymise and remove bias from the selection process. We aim to advertise widely and use targeted talent sourcing to ensure our shortlists are full of qualified candidates from non-stereotyped backgrounds. We are currently majority female in the company, with equal female and male managers. We promote inclusion and respect as one of our core values.
How do you support your team to grow and improve?
We operate a 6 monthly professional development review, which sets training goals and any issues arising in growth and development. We also offer outside executive coaching to all line managers.
Perks and benefits
Private Health Insurance plans, 100% covered for families in the US / UK / Spain (and coming soon via other PEO platforms)
5% contribution to Pension (US- 401k and UK)
28 Days holiday + Bank holidays
International company summits
Share of 10% profit plan (after 2 years, fully vested at 4 years)
Annual bonuses and other renumeration reviews according to our transparent salary model.
Open budget (ie not unlimited, but not set either) for training, equipment, books + courses
Generous family and parental leave policies
Further reading
More great places to work: