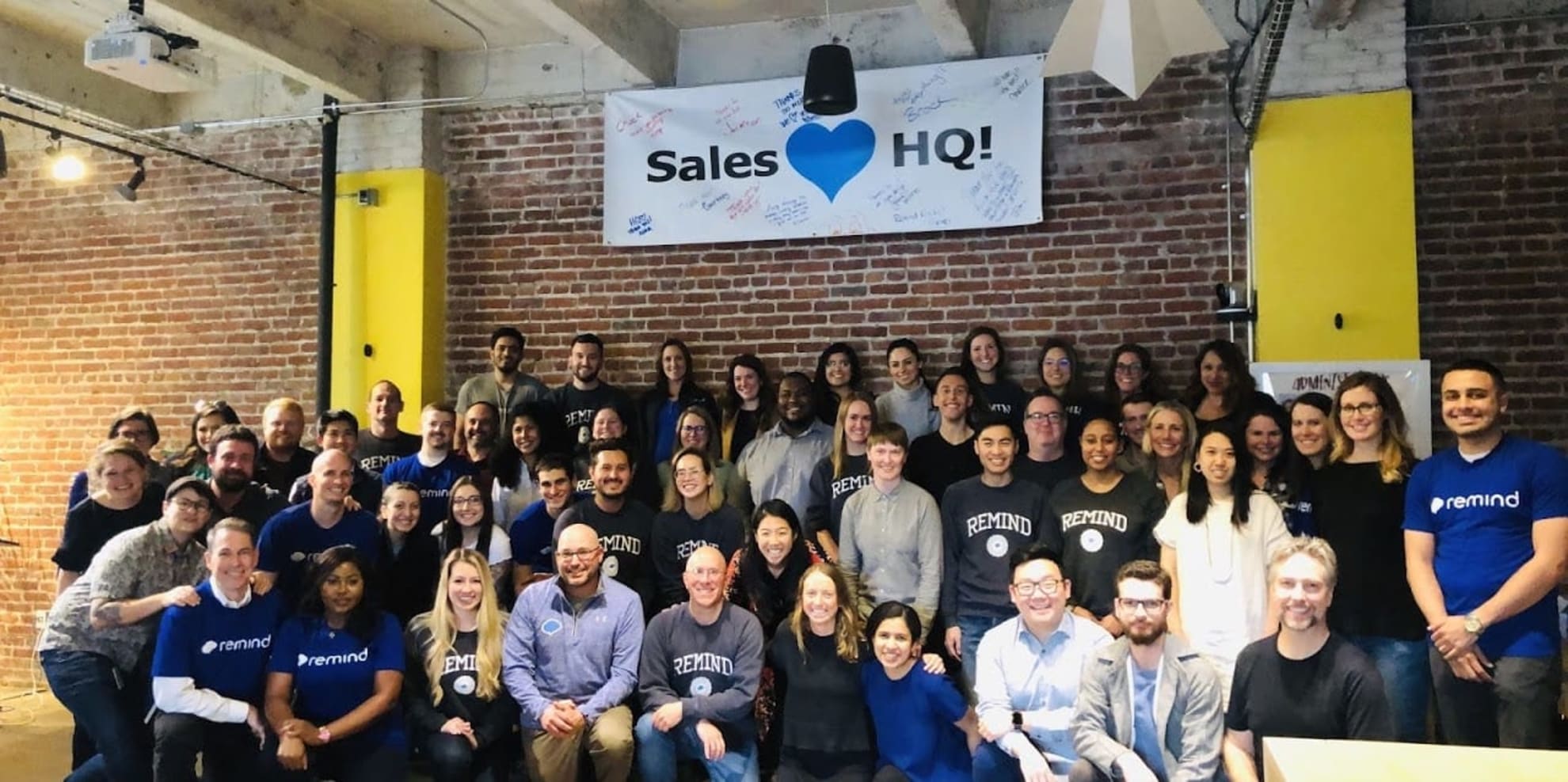 In business

12 years

Funding model

VC funded

Team size

110
Remind

Reach students and parents where they are.
---
Remind profile
Remind, the leading communication platform in education, helps educators reach students and parents where they are. Nearly 30 million people use Remind to communicate about teaching and learning, share content, and build stronger relationships—right from their phones. With powerful, easy-to-use features that allow schools, districts, and other educational organizations to activate engagement across their communities, Remind connects the people and resources that help give every student the opportunity to succeed.


Founded in 2011, Remind is backed by GSV Ventures, Kleiner Perkins, Owl Ventures, and Social Capital. For more information, visit Remind.com.
How do you maintain flexibility & balance for your team?
At Remind, we hire self-motivated and self-disciplined people who see output as the true measure of performance. We expect our team members to be exceptionally responsible, and we give them the flexibility that goes with that. Team members commit the time and energy necessary to be outstanding at their jobs and have the flexibility to be away from the office as needed for their personal life.

Success in this environment requires making trade-offs and setting priorities for what you can and can't do each day, week, and month; and it requires negotiating these trade-offs and priorities with everyone you work with on a regular basis. Since this is core to how you accomplish your work, it's also core to how you live your life beyond Remind. One of the biggest stressors we all face is the trade-off between doing work and doing other things like play, rest, and spending time with family and friends. None of these things is more important than the others, but all must be juggled and shifted to create a satisfying and productive balance.

Your pay is set based on your experience, expertise, and impact. In a salaried job, you must work enough to have an impact, but not so much that you become all work and no play. We know (based on substantial research and personal experience) that working TOO MUCH leads to lower impact, less meaning in life, poor relationships, and sometimes burnout and/or complete failure to thrive.


We have established guidelines to help you navigate your time and create the right mix of work and time off so that you can perform at your best, live a great life, and help us all make a bigger impact on parents, teachers, students, and administrators.
Remote Friendly
Flexible Schedule
Unlimited Vacation
How do you ensure autonomy and plan for the future?
A common colloquialism is "two heads are better than one." Our founders agreed. We are a company built by a team. We maintain this spirit and approach with One Team, Two Goals (OTTG) - Remind's cultural framework for achieving our purpose. As One Team built on improving performance and belonging, we work together every day to achieve the two goals that measure our success: Impact and Sustainability. In order to positively impact as many students as possible, today and in the future, Remind will become a sustainable company. OTTG defines the achievement of our vision and mission on behalf of educators, students, and parents, and what success looks like for our team members and shareholders. Quarterly and Annual Planning involves Team Leads meetings, All Hands conversations, and department strategy planning so that all voices are heard in our annual plan. Quarterly GSAs (Goals/ Strategies/ Actions) are then created by every individual to support the success of Remind and our Two Goals.
Long-Term Planning
Shared Goal Setting
How does your company try to hire people from underrepresented groups and improve the diversity of your team?
In order to best serve our users, we at Remind strive to create an internal culture that is representative of the students, parents, and educators we work for every day. We also recognize the importance of fostering the individuals within this diverse community — just as our vision is to give every student the opportunity to succeed, so, too, do we want to ensure that every employee has the same opportunity. Just as we measure everything else at Remind, we want to know when we achieve success in diversifying our workforce. This will come from both hiring & retention strategies. Core to our hiring strategies is influencing the pipeline. This comes from everyone's activity in posting jobs in their network sites, building ethnically diverse networks, using our stringent and bias-reducing hiring process, and creating an inclusive company where others are more likely to recommend working here. Additional details on our journey and initiatives can be found at
remind.com/dei
.
How do you support your team to grow and improve?
While you work at Remind, we will work together for the betterment of Remind and the betterment of each other. We will use our strengths to support One Team, to build a sustainable business, and to impact student success in education. Rubrics are used to define the expectations for OTTG so that you and your manager can work towards achieving GSAs (Goals/ Strategies/ Actions) that are aligned to support the success of Remind. In return, Remind will support your personal growth and development -- helping you attain new skills, lead teams, deepen technical expertise, and increase scope of responsibility. Your managers are team and individual coaches - helping you (and your teams) leverage your strengths to accomplish your goals. Eventually, your skills and abilities will be suitable for new responsibilities, roles, teams…. or perhaps even a new company. Remind will be your partner in this journey.
Regular 1×1's
Mentorship Process
Perks and benefits
100% coverage for medical, dental and vision for you and your dependents
Unlimited vacation
Employer sponsored FSA and DCA funding
11 Office Closure dates (holidays) plus a Winter Break (closure between Christmas and New Years)
Celebrations (Baby Showers, Remindaversaries)
Home Office Expense Fund
16 Weeks Baby Bonding Leave
401k Program
Online Health & Wellness program access
Engagement and team building activities
Further reading
More great places to work: