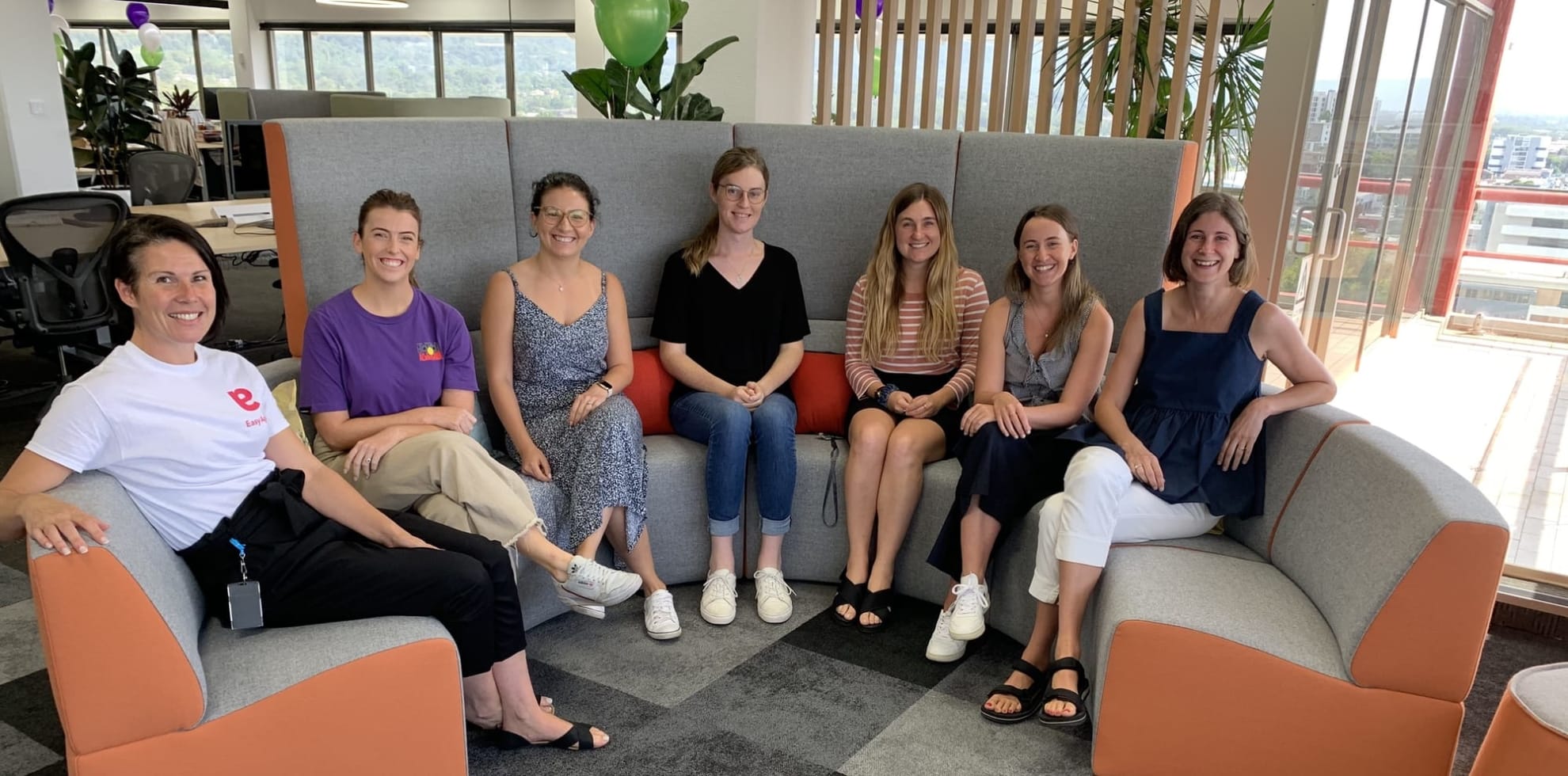 In business

8 years

Funding model

Bootstrapped

Team size

22
Easy Agile
Agile made easy for everyone on your team
Open positions:
---
Easy Agile profile
We are a bootstrapped and profitable business located in the South Coast of NSW, Australia in a beautiful community called Wollongong. Our mission is to help teams be agile. We craft solutions to make every agile team more effective. Our solutions are delivered via the Atlassian Marketplace as apps for Atlassian Jira. Our founders, both of whom are Atlassian Alumni, chose to focus on agile teams as they are passionate about seeing agile teams constantly improve. We believe business should be good for the people, community and planet. This belief fuels us and our decision-making.
How do you maintain flexibility & balance for your team?
One of our values at Easy Agile is "Better with Balance". For us, this means we have fun as a team and maintain a sustainable pace. We understand and celebrate what balance means to each of us, in and out of the office. We recognise, respect and create space for the individual needs of balance and life. We also believe in working smarter not harder and focus on outcomes over outputs.
Remote Friendly
Parental Leave
Company Retreats
Flexible Schedule
How do you ensure autonomy and plan for the future?
At Easy Agile we care deeply about empowering our team and providing them all with autonomy, purpose and mastery. We have built this into the way we work with our "6-week opportunity cycles" inspired by Shape Up from Basecamp. These cycles are comprised of 2x two week sprints, followed by 1 week of tech debt and 1 week of inception week.

The first 4 weeks are comprised of product work broken down into two sprints, which can be raised and championed by anyone across the business. Our tech debt week is a week to focus on technical debt or improving how we operate as a business, supporting our value of 'Punch above our weight'. Our Inception week is a week of freedom and autonomy to work on a pursuit of your choosing. This way of work comes together to ensure we support autonomy and always help the team align with our vision and planning.
How does your company try to hire people from underrepresented groups and improve the diversity of your team?
Diversity & inclusion is very important to us and something we are actively working to strengthen. We commit to bringing our whole selves to work, to looking after one another, and to engaging with authenticity and courage. A few things we are currently working on:


We have a structured and detailed interview process to drive consistency and aim to remove bias from the process. 
We are engaging with social enterprises to help diversify our talent pool with neuro-diverse, culturally diverse and gender-diverse teams 
We offer generous parental leave to both primary and secondary caregivers 
This year we have included diversity and sustainability reporting as part of our company goals and are excited to see the impact and improvements over time. 

We are all ears and hope all future team members we bring on board come with ideas on how we can be better, specifically in the DEI space.
How do you support your team to grow and improve?
Another one of our values at Easy Agile is "punch about our weight". We are a lean team, focused on working smart and delivering high-impact solutions. We experiment knowing it is okay to fail as it gives us the opportunity to learn. We ensure all of our team have robust learning and development plans so they are in the driver's seat of their own career. Additionally, we give everybody a $5,000 learning budget annually to support and propel their careers forward. We are passionate about the team members at Easy Agile being able to achieve whatever they set their mind to!
Professional Allowance
Regular 1×1's
Personal Growth Plans
Perks and benefits
$5,000 annual learning allowance to help you level up your career and hone your craft
Generous parental leave of 20 weeks full pay for the primary caregiver and 6 weeks for the secondary caregiver. We know how special time with family is and believe the time should be cherished
Summer sessions where you get half days off on Fridays to enjoy the amazing weather and coastal lifestyle as you please
Flexible working options because we value outcomes over output. We trust our teams and respect balance means different things for different people and do our best to balance the needs of everybody.
Additional superannuation contributions of 2% annually on top of the national standard 
Four paid volunteer days a year to dedicate to your favourite cause. We are part of Pledge 1% where we donate 1% of our profits, licenses and time!
Experimentation/hackathon weeks every 6 weeks to explore new ideas
Ergonomic set up. Sit-stand desks, ergonomic chairs, tech hardware of your choice and different work spaces to enable you to do your best work
Valuable team time. We love committing as a team and spending time together. We have coffee on the company together every morning, a company lunch together every 6 weeks, frequent the local Illawarra Hawks games and play an array of games together daily in our incredible office space (Shuffle board & Ultimate Chicken Horse are our current favs)
Further reading
More great places to work: