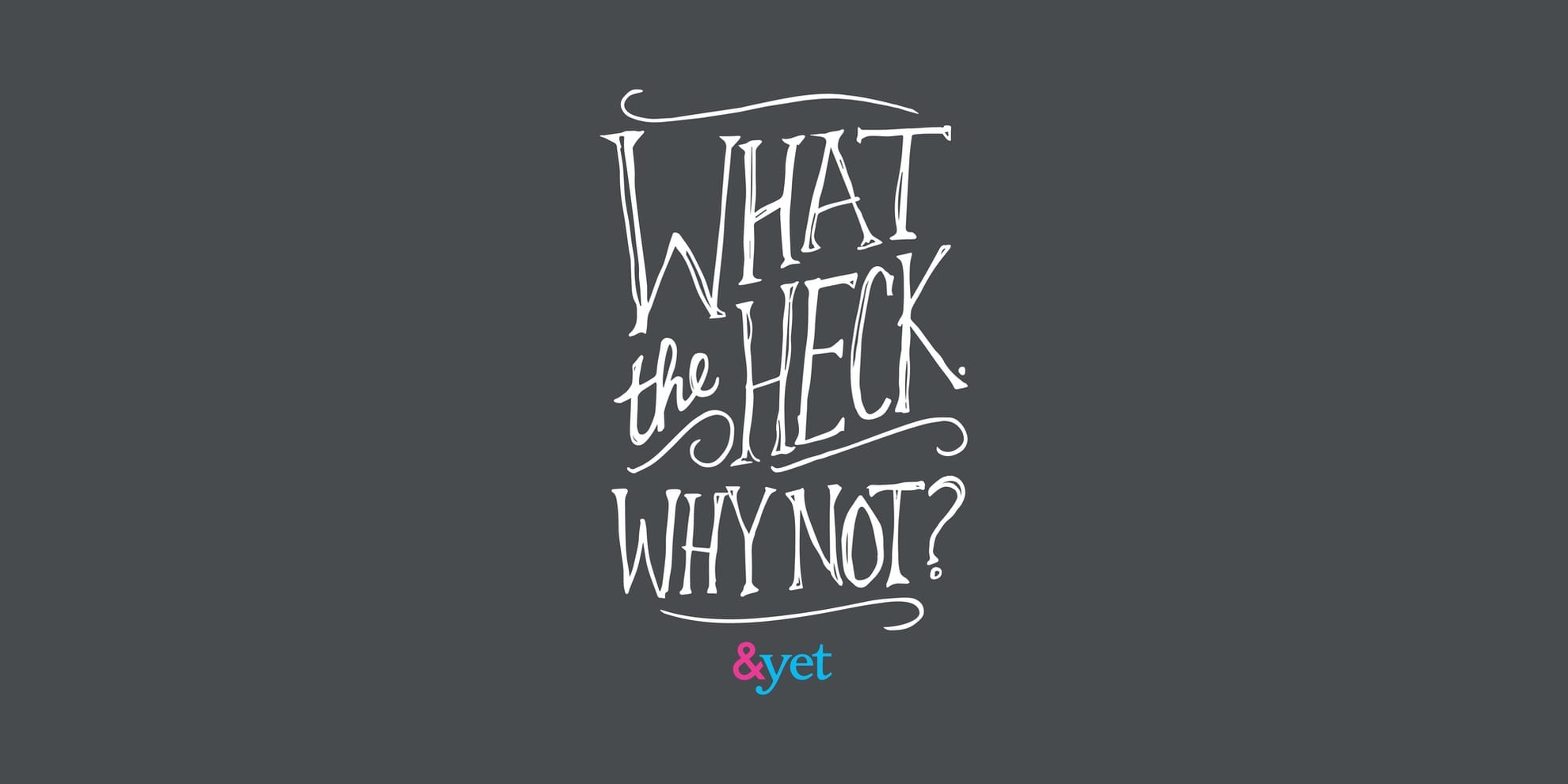 In business

15 years

Funding model

Bootstrapped

Team size

12
&yet
Design, code, and education for people-first growth.
---
&yet profile
For over a decade, &yet has helped people-first tech companies achieve their growth goals with a broad range of projects, from business and creative strategy to UX, visual design, and code. We are an eclectic group of designers, developers, illustrators, writers, speakers, starters, and finishers.


&yet is a company of individual and collective possibility where people can be creative, take risks, and grow.
How do you maintain flexibility & balance for your team?
We encourage teammates to do what they need to do to take care of themselves and do their best work. We check in on how we're each doing so we can effectively take care of each other and receive care when we need it. We communicate scheduling needs and availability openly and honestly, so when we need to communicate synchronously, everyone has visibility on what works for the people involved.
Remote First
Parental Leave
Flexible Schedule
Office Allowance
Mandatory Minimum Vacation
How do you ensure autonomy and plan for the future?
Our annual and quarterly planning is led by a small team but includes multiple opportunities for feedback and discussion before we commit to goals and priorities. We revisit those objectives quarterly with input from the whole team on a regular basis to ensure we're progressing toward the right goals.
Deep Work
Long-Term Planning
Shared Goal Setting
How does your company try to hire people from underrepresented groups and improve the diversity of your team?
We do not merely want a work environment that is free from hostility; we want one that is warm, actively welcoming, and inclusive. We've been lucky to continually be educated by Black leaders over the past several years. We have been invited to help fund local efforts to support antiracist work and BIPOC in the Tri-Cities community (a community that has particularly segregated, racist roots). However, we want to do more than respond to requests when they're needed. We can do better by making more consistent contributions, facilitating a more antiracist culture, and digging deeper into our own biases and privilege.
How do you support your team to grow and improve?
We encourage personal and professional growth first by providing a safe environment for all of us to admit when we don't know something. Then with the support of our team, we can create and seek out opportunities to learn, teach, and achieve our goals.
Professional Allowance
Regular 1×1's
Personal Growth Plans
Perks and benefits
20 days of PTO plus major holidays
Flexible schedule
401K program
Paid parental leave
Further reading
More great places to work: